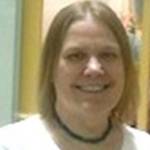 Judy Beth-Hervert, Seneca Township
Judy was born and raised in Woodstock and attended Woodstock schools. She graduated from Woodstock High School – as did her parents, Agnes and Ervin Beth; brothers, Raymond and Sterling; and her children, Bryce, Erik and Alyssa. She and her husband, Jan, continue to enjoy the lifestyle afforded to them in rural McHenry County.
The grandchild of European immigrants, Judy grew up with many stories of rural life in McHenry County. These stories have served her well as a volunteer docent, walking through the museum with countless school groups. As a former teacher, she relishes working with students.
"I had already been doing the docent thing about a year before joining the board in 2013," Judy said. "I always enjoy being out here."
Hervert attended Illinois State and Northern Illinois universities. She worked with the deaf and hard of hearing at the Special Education District of McHenry County in Woodstock for 34 years. Retirement has been a whirlwind of many "volunteer jobs." She and Jan enjoy traveling and are looking forward to a visiting their daughter in Brazil.
"Wherever we go, I'm always touched with pride on returning to McHenry County," Judy said. "I tell the school children that my grandparents chose McHenry County out of the whole United States. They chose a fine place!"