Established in 1963, our members, staff and volunteers have an over 50-year track record rich in preservation, education, and entertainment contributions to McHenry County. We create learning experiences and events. We focus on local culture, organizational and family history. We collect and care for notable artifacts. We participate in the activities of like-minded organizations, throughout McHenry County.
Preserving a community provides multi-sensory collective memory. Ultimately, our goal is to encourage the appreciation of all aspects of our environment, both natural and man-made. Appreciation of history will most definitely enrich your family's lives and experiences. Individuals who are sensitive to their environment make better citizens. Better citizens vote, they participate in community life and they teach their children by example.
Your financial support is required to continue our mission of providing the methods and means of presenting McHenry County History, to enrich life. Our Society relies upon you for financial support through membership, endowment funds and by remembering the Society in your estate planning. We are a 501(c)3 non-profit organization. Donations are fully deductible. Our dues are affordable.
---
Benefits of Membership
Your membership in the McHenry County Historical Society is always welcome and appreciated! Besides the knowledge that you are joining the efforts to shape the future of this county without forgetting its past, membership benefits include the following:
• Free admission to the McHenry County Historical Museum, named Small Institution of the Year in 1998 by the Illinois Associate of Museums;
• Business memberships receive free family passes to the McHenry County Historical Museum;
• Free use of the McHenry County Historical Society's Research Library;
• Subscriptions to the McHenry County Historical Society's local history quarterly, The Tracer, and the Society's Page, published several times a year.
• Reduced rates for special programs.
• Members save 10 percent on all Museum Store purchases.
Download Membership PDF or Sign up online: Membership
---
Planned Giving
A gift to the McHenry County Historical Society is a personal and community-focused gesture which helps assure continued preservation of our local history for generations to come. We suggest you consult legal and financial counsel before making financial decisions. Here are some options for your consideration.
Bequests
Through a bequest, you can make a gift of assets to MCHS. Your will may name the Society as a beneficiary of all or portions of your estate. This is a meaningful legacy in support of our mission. Your existing will may be modified to include the society.
Charitable Gift Annuities and Charitable Trusts
Through these vehicles, you retain an interest in the gift, with the remainder to be received by MCHS at a later time. There may be specific estate tax benefits to you in support of the society.
Life Insurance
If your policy no longer has the financial significance for your family's security that it once did, you may consider making MCHS the owner of the policy. This may provide considerable tax benefits for you today. You also may name MCHS as the beneficiary. This may benefit your estate upon your death.
Real Estate and Appreciated Stock
Your personal residence, a vacation home, commercial property, or undeveloped land can be donated to MCHS. As with donations of appreciated stock, you may be able to receive a deduction for the full market value of the real estate, while also avoiding any exposure for the capital gains through appreciation in value of the property.
Cash
Cash donations are the simplest way to support our Society. The impact of your cash donation may also be enhanced through your employer's matched giving program.
We appreciate your consideration. Please give generously to enrich our organization, our facilities, and our efforts to preserve local and family history.
---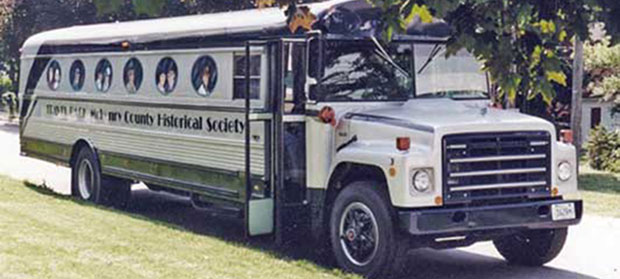 Support the James
An opportunity to share county-wide advertising with the Society through sponsorship of the historical society's award winning local mobile history museum called "The James."
"The James" is a professionally revamped school bus complete with changing exhibits and its own generating system, and easy entry and exit. It will appear at business events like grand openings and/or anniversary celebrations or at business expos.
As the cost of fuel, repairs, insurance and licensing has increased for our mobile museum the McHenry County Historical Society began to scrutinize our approach toward dealing with prospective venues. Our popular history bus, which is free to visitors, generated very few donations last season. Those who viewed the display at a dozen destinations contributed just $60. We anticipate at least a $2,000 shortfall in that account by the time our fiscal year ends June 30.
Therefore, we are requesting tax-deductible donations of at least $100 by for-profit entities, taxing bodies and businesses that book The James, and a minimum $75 donation per occurrence from nonprofit organizations which wish to bring The James out to their events. The request, in line with what many organizations already give, will not make the program self-sufficient. But it will help.
No such expectations will be placed on governmental/organizational members of the McHenry County Historical Society. That is a benefit of being a sustaining member. However, as always, your financial support is needed and very much appreciated.