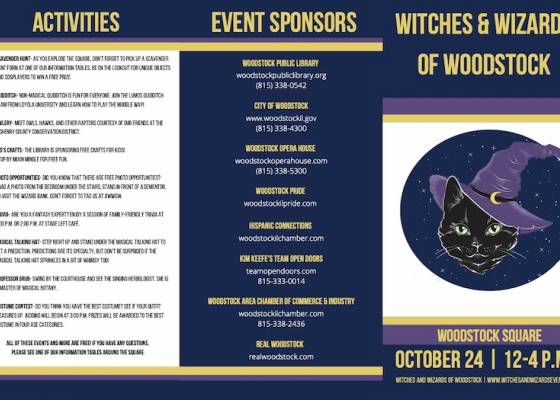 The Woodstock Square will be transformed into a world of enchantment from noon to 4 p.m. Sunday, Oct. 24
This all-ages event features the magical talking hat, the Loyola University Quidditch squad, a fantasy-themed trivia contest, scavenger hunts, live music, games, crafts, shopping, amazing food and all manner of entertainment. It's a week before Halloween, so wear a costume and soak in the experience.
The McHenry County Historical Society & Museum is working in conjunction with the Woodstock Public Library, city of Woodstock and the Woodstock Area Chamber of Commerce & Industry to ensure everyone has a magical fall afternoon. Stop by our booth on Benton Street to play "Hide the Ghosts" and win some candy. Learn about ghostly legends in McHenry County and MCHS' "spirited" efforts to preserve the past.
EVENTS
• The Magical Talking Hat It talks, it floats, it predicts the future and it tells bad jokes! Witches and Wizards of Woodstock wouldn't be the same without our magical, wise-cracking, hat.
• Quidditch Non-magical Quidditch is fun for everyone. Join the Lumos Quidditch team from Loyola University and learn how to play the muggle way!
• The Owlery Meet owls, hawks and other raptors courtesy of our friends at the McHenry County Conservation District.
• Cosplay Scavenger Hunt A favorite activity every year—find our cosplaying volunteers and fill up your scavenger hunt form. Find them all to win a small prize!
• Crafts Come make some fun, family-friendly crafts in the historic Old Courthouse.
Dennis Christie, Master Deceptionist A master of all types of magic, Dennis Christie specializes in up close, mind blowing magic. He'll be wandering the grounds during WWoW, so keep an eye out for his next trick!
• The Tiny Bedroom Under the Courthouse Stairs Tucked away in the historic Old Courthouse is a rather small bedroom under the grand staircase.
• Balloon Artistry Squids, hats, swords, and so much more. The talented balloon artists from RC Juggles can make nearly anything.
• Ukulele Superhero Club These ladies know how to jam on the most unlikely of instruments, the ukulele!
• Griselda Grubb Professor Grubb, the singing herboloist, is a master of magical botany.