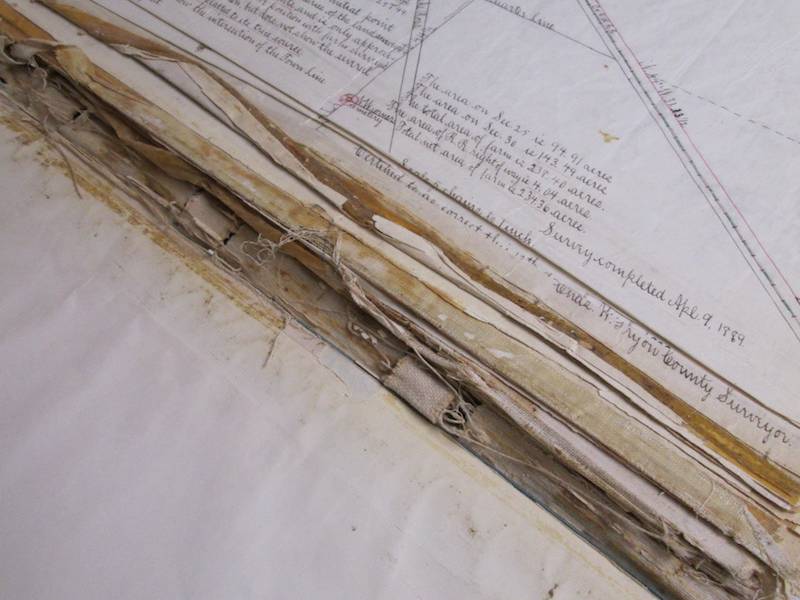 In the 1830s, land surveyors began to travel into the region now recognized as McHenry County. Before land could be sold, a surveyor was hired to draw township maps. Surveyors walked entire townships with their survey equipment taking notes. In McHenry County, they recorded observations of plentiful timber, tallgrass prairies, and abundant water supplies.
The Society holds numerous survey notebooks from notable McHenry County surveyors including John Brink, Charles H. Tyron, and his grandsons Charles L. and George L. Tryon. Due to their age and continual use for research, the survey notebooks require professional conservation. Bindings have separated from their text block. There are numerous loose pages, with chips and tears. The notebook paper is acidic and becoming brittle.
Conservators will re-sew pages to the binding. Then those pages will be surface cleaned and mended, and the text block will be de-acidified to prevent further deterioration of the paper. Once adopted and stabilized through conservation, each survey notebook will be made available in the Society's research library for public use once again.
•••
The McHenry County Historical Society has a collection of surveyor notebooks from the noted Tryon family of McHenry County. They consist of survey work done by three members of the Tryon family, Charles H., and his grandsons, Charles L. and George L. Tryon.
Charles H. Tryon was the McHenry County surveyor for 20 years in the late 19th century. Charles H. Tryon was born in South Deerfield, Mass. on June 2, 1826, and came with his parents to the Hebron area of McHenry County. They established a farm at the northeast corner of what is now Tryon Grove Road. He married Elizabeth Downs of Lake Geneva, Wis.
In 1888, he served as the official McHenry County surveyor. Charles H. Tryon died at his home on April 13, 1916. He is buried in Woodstock's Oakland Cemetery.
Charles L. Tryon, a grandson of Charles H. Tryon, was born on the family farm on Nov. 30, 1885. He was elected county surveyor in 1913 and passed an examination for the newly formed McHenry County Highway Department where he served until his retirement in 1958. He died in Woodstock on October 5, 1980 and is buried in Woodstock's Oakland Cemetery.
George L. Tryon, a brother of Charles L., was born in Woodstock on March 1, 1891. He was taught surveying by his brother and was a McHenry County surveyor until his death on June 3, 1957. He is buried in Woodstock's Oakland Cemetery.
Tyron Family Plat Book
This plat book is folio sized, 14 by 17 inches, and contains 131 numbered pages of maps. A few of the maps are with color and some are double paged. The plat book is hand labeled "Part II." MCHS does not have Part I, but the John Brink index details some of the survey plats in Part I. A few of the plats in Part II are dated. Most of the first half of the book's pages are loose and therefore tearing. Each page would be de-acidified and encapsulated and a new post binding would be created. Among the plats are: Crystal Lake's Prospect Point, Mead's Second Addition to Hebron, Douglas Addition to Crystal Lake, Syndicate Addition to Marengo, and Smith's, Mansfield's Addition to Woodstock, Coon Island, Pistakee Bay and Orchard Beach.