A Musical History of McHenry County." presented by Speaker Mary Ellen Heelan, of Cary.
Mary Ellen recounted the fascinating, often mysterious, history of local dance halls and the musicians who performed in them: Louis Cernocki welcomed the gangsters to his Crystal Ballroom in Fox River Grove and in the '30s several "wise guys" kidnapped a security guard at the Fox Pavilion in McHenry and drove him to Chicago. In the meantime, their cohorts burned the place down. It did reopen later.
Mary Ellen's research continues to capture recollections and intriguing stories about long-forgotten, part-time musicians and venues such as the Marengo Opera House – served by a special train from Chicago. She also played music from the period on piano and accordion.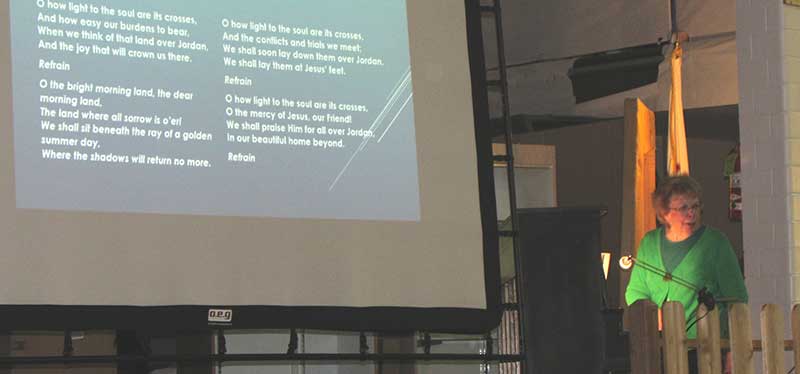 Mary Ellen Heelan of Cary (top) on March 16 discusses "The Morning Land," a popular hymn sung each Memorial Day in the old Marengo Opera House. It was written in 1877 by a prolific blind songwriter named Fanny Crosby. Above, Heelan entertains visitors with a polka on her accordion. The Spoljnia Polish Camp and barn near McCullom Lake was a dancing hot spot.