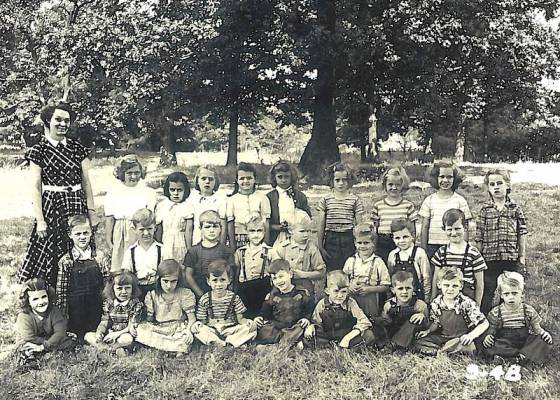 1 to 4 p.m. Aug. 20
Pringle School, located at 21596 River Road, just west of Route 23 in Marengo, was built in 1867 from limestone quarried at Garden Prairie and transported by wagon to land donated by the Patterson Pringles. It is one of four one-room schools built along a trail that was to become River Road and the third building in that district.

Like settlers who lived off the land, students at Pringle School also used the resources outside their 1867 schoolhouse to raise funds.
In this case it was black walnut trees.
"The entire school went to the woods after school hours and harvested the nuts," according to written report about the walnut project from the 1930s. "The larger pupil in each group climbed the tree, while the smaller children gathered the nuts. The groups vied with each other in the number of bags filled. An hour was usually allowed for this work, for the children were to be at their homes by 5:30."
The nuts then had to be cleaned, dried and weighed – staining many hands in the process. They were sold for 25 cents a peck and proceeds went toward needed school improvements. Pringle School, which operated until 1951 at 21596 River Road in Marengo, hosted fundraisers to buy band instruments, a water cooler, a Victrola and a radio. Electricity arrived in 1935.
In honor of the original Pringle School students packaged chopped walnuts and walnut halves will be for sale at the Pringle School 150th anniversary, from 1 to 4 p.m. Sunday, Aug. 20. Walnut baked goods and sets of walnut recipe cards also will sold to raise money for the limestone school's restoration.
Another popular method of raising money was basket socials. Ladies, young and old, put together sumptuous meals in attractive baskets – which then were auctioned off to the highest bidder. They sometimes eliciting escalating prices between rivals for the basket of the most attractive maiden in the district. The historical society will host its own box lunch social auction at 1:30 p.m., conducted by Russ Davis. McHenry County eateries – including Checkers, StoneBakers Pizza, Lucky Bernie's and Honey Baked Ham – have cooked up some delectable offerings sure to tempt your palette.
The McHenry County Historical Society acquired Pringle School from the DiBona family in 2002 and set about restoring the structure back into a classroom. Work included the installation of salvaged, period flooring; plastering and a new roof using machine-sawn shingles. Upcoming projects involve restoring the foyer and the classroom storage cubicles, as well as tuckpointing.
Sunday's program begins with a summary about the importance of one of the county's rare one-room schools, followed by the basket social, birthday cake and live music from 2 to 3:30 p.m. by the Kishwaukee Ramblers, featuring Amy Beth and Neal Brown. Displays, a video of last year's Elementary Follies (a re-created 1930s' history pageant) and various displays will be available for viewing throughout the day. A port-a-potty also will be on site.
Enter the grounds off River Road and park on the adjacent lot. Admission is free.
Pringle School Birthday Celebration Event Schedule
• 1:15 p.m. – Welcome and overview
• 1:30 p.m. – Box Lunch Auction (reminiscent of basket social)
• 2 p.m. – Birthday party w/cake
• 2 to 3:30 p.m. – Live music by The Kishwaukee Ramblers featuring Amy Beth and Neal Brown
Displays, a video, walnut sale (students used to collect and sell black walnuts as a school fundraiser) and excavated artifacts will be on display throughout the day.
Learn about the proposed restoration plans and how you can help!
Free admission. Port-a-potty available.