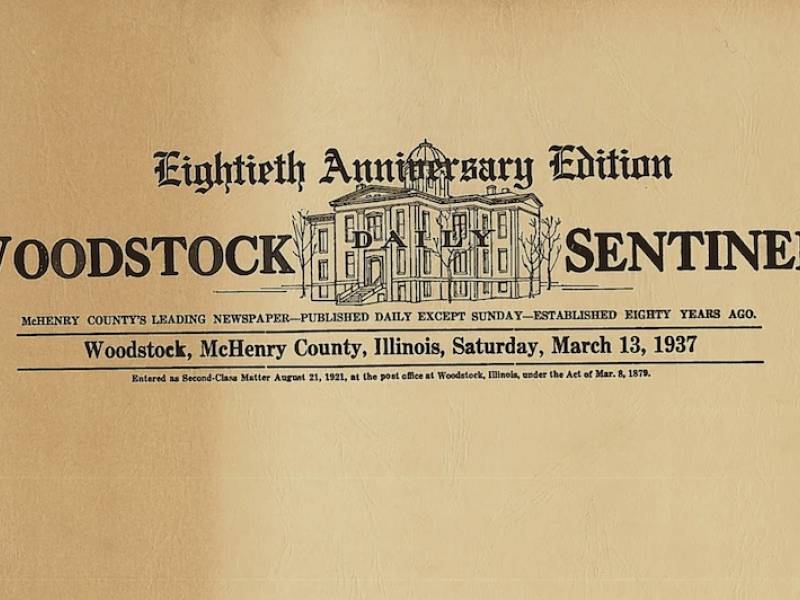 Algonquin Area Public Library District
2600 Harnish Drive, Algonquin 847-458-6060
Lynn Elam, Director lelam@aapld.org [1]
Local History Contact: Kristin McCallum kmccallum@aapld.org [2]
Website: www.aapld.org [3]
Newspapers: Cardunal Free Press (April 20, 1966 - Dec 31, 1985) and the Northwest Herald (from Jan 2, 1986). Collection includes local Algonquin and county history books, Harry D. Jacobs High School yearbooks since 1977, and McHenry County Vital Records & Indexes on microfilm. Of special interest is the Algonquin History Events Database: Searchable Index and Abstracts to Local Newspapers from early 1830s (CD-ROM that include obituary abstracts. The Algonquin Area Obituary & Genealogy Index is an incomplete index of obituaries and engagement/anniversary/wedding notices appearing in several local newspapers since 2005. Illinois Digital Archives (www. Idaillinois.org/cdm/search/collection/algonqui001) has books, pamphlets, photographs, and maps related to the history of Algonquin, Lake in the Hills and county. All featured titles are the library's possession.
Cary Area Public Library District
1606 Three Oaks Road, Cary 847-639-4210
Diane McNulty, Director dmcnulty@cary.lib.il.us [4]
Website: www.caryarealibrary.info [5].
No archived newspapers in any format but has many local history items in various formats and conditions. They include: Cary Women's Club meeting minutes, 1941-1981; Cary Women's Club finance records 1933-1072; "My Eight Years as Mayor of Cary, 1961-1969 by Raymond A. Moehler (3-ring binder with news clippings and hand written "diary" notes); many compilations of news articles from Betty Freeman (local historian); and many items on Illinois Digital Archives www.idaillinois.org/cdm/landingpage/collection/caryarea002 [6].
Crystal Lake Public Library
126 W. Paddock, Crystal Lake 815-459-1687
Kim Martens, Director kmartens@crystallakelibrary.org [7]
Contact: Alice Hayes ahayes@crystallakelibrary.org [8]
Website: www.crystallakelibrary.org [9]
Newspapers on microfilm dating from the Nunda Advertiser in 1876 which became the Nunda Herald in 1880 and the Crystal Lake Herald in 1909. In 1986 it became the Northwest Herald.
Map Files include McHenry County Plat Maps, 1927 to 2013, and McHenry County Atlases, 1862 (framed on wall), 1872, 1892 and 1908. Maps include: city of Crystal Lake, 1915 to 2012, plus Nunda Township, Crystal Lake Park District and school District 155. Local history collection includes newspaper clippings of Crystal Lake Obituaries, Ice Harvesting and other topics. Indexes to marriages, wedding announcements, death notices and other articles in Nunda Advertiser starting in 1875 and the Crystal Lake Herald 1908-1979. Books include family maps of McHenry County, McHenry County War Veterans (buried in McHenry County), and St. Patrick's Church (Hartland Township) baptisms and marriages 1852-1868. Crystal Lake houses half of the McHenry County Genealogical Society collection.
Fox River Grove Memorial Library
407 Lincoln Avenue, Fox River Grove 847-639-2274
Nicole Steeves, Director nsteeves@frgml.org [10]
Local History Contact: Linda Stengele frglibrary@frgml.org [11]
Website: www.frgml.org [12]
General items on Fox River Grove, Algonquin Township, Cary and McHenry County history, including clippings, photos, historic books, interviews, and documents. Materials about the Fox River Grove school bus/METRA train accident, Norge Ski Club, Illinois Turner Camp, Windy City/Eagle's Nest balloon port, obituary clipping files and cemetery records.
Harvard-Diggins Library
900 E. McKinley Street, Harvard 815-943-4671
Karen Sutera, Director karens@harvard-diggins.org [13]
Local History Contact: Holly Haupt hollyh@harvard-diggins.org [14]
Website: www.harvard-diggins.org [15]
The Harvard Independent and Harvard Herald newspapers are available on microfilm from 1867 to 1986 and many issues are available on the library's website link "Harvard Newspapers." The digitization of all of the old newspapers is in progress, as of now up to 1931. The library has a growing collection of genealogy and local history materials about Harvard.
Huntley Area Public Library District
11000 Ruth Road, Huntley 847-669-5386
Patrick McDonald, Director PMcDonald@huntleylibrary.org [16]
Contact: Nancy Bacheller nbacheller@huntleylibrary.org [17]
Website: www.huntleylibrary.org [18]
Huntley Farmside newspapers (June 30, 1960 - 2000) are available in the building and online through Illinois Digital Archives. The link to the IDA collection can be found at the top of the website-- Huntley Library Local History File Index and Local History Storage Shelves. There are many photographs and other items in boxes at the library and an extensive clipping file. The indexes for those collections can be found at the top of the website as well. Storage shelf items include various maps, atlases, and plat books. Local history book collection includes Huntley yearbooks, Oliver Statler books, information about local houses, and various Huntley and McHenry County histories.
Johnsburg Public Library District
3000 W. Johnsburg Road, Johnsburg 815-344-0077
Maria Zawacki, Director mzawacki@johnsburglibrary.org [19]
Contact: Judy Robel jrobel@johnsburglibrary.org [20].
Website: www.johnsburglibrary.org [21]
The library subscribes to the Northwest Herald archives via Newsbank starting is January 2005. Local history books include "Early Records of St. John the Baptist Catholic Church, 1852-1909" and "St. John the Baptist Church's Diamond Jubilee, 1842-1975." Other materials include Freund family immigration information and a video about historic Johnsburg. The pamphlet "Historically Yours" has photos and descriptions of buildings in Johnsburg.
Marengo-Union Public Library District
200 S. State Street, Marengo 815-568-8236
Mary Hanson, Director: mhanson@muld.org [22];
Website: www.muld.org [23]
Newspapers include Marengo-Republican News (Jan. 13, 1872- June 24, 1981) and
Marengo-Beacon News (January 1979-December 1980). The local history room has reference copies of Marengo Homes; and "Ruminations…Reflections…Expectations Marengo Commemorative Book 1835-1985." Telephone directories, Marengo Community High School yearbooks, and various church directories.
McHenry Public Library District
809 N. Front Street, McHenry 815-385-0036
Jim Scholtz, Director jscholtz@mchenrylibrary.org [24]
Local History Contact: Thomas Hillier, thillier@mchenrylibrary.org [25]
Earliest newspaper McHenry Plaindealer, Aug. 11, 1875. All issues from 1875 to the Northwest Herald through April 30, 2012 are available on microfilm. The local history collection includes town histories, plat books, census indices, cemetery indices, some obituary indices and family histories not only from all the towns in McHenry County, but also from all Illinois Counties and many neighboring states. McHenry Library houses half of the McHenry County Genealogical Society collection and the collection of the British and Irish Genealogy Interest Group of Wisconsin and Illinois (BIG-WIL). Local history collection has more than 2,000 items, and the new digital archive, http://vitacollections.ca/mchenrypubliclibrary/search [26], includes 180 images scanned from glass-plate negatives.
Nippersink District Library
5418 Hill Road, Richmond 815-678-4014
Cynthia Cole, Director cynthiac@nippersinklibrary.org [27]
Some local history items concerning the villages of Spring Grove and Richmond. Books include: "Village of Spring Grove Centennial History 1902-2002" and "Northeast McHenry County." There also are planning and other documents from the villages.
Woodstock Public Library
414 W. Judd Street, Woodstock 815-338-0542
Nick Weber, Director nweber@woodstockil.info [28]
Local History Contact: Maggie Field Crane maggiec@woodstockil.info [29]
Website: www.woodstockpubliclibrary.org [30].
The earliest local newspaper is the Woodstock Sentinel dated July 1856. The Sentinel was published until September 1985, when it was folded into the Northwest Herald. All issues of the Sentinel, Northwest Herald and the Woodstock Independent are available on microfilm and recent newspapers are also available online to card holders via Newsbank or ProQuest on the website. The local history collection on the upper level has county histories, atlases and plat books, Woodstock regional documents and files, and a surname index that is also available online. Other useful materials include telephone directories from 1948, city directories since 1913, and yearbooks from Woodstock and Marian Central Catholic high schools. There are special collections on Todd School (Orson Welles) and the movie "Groundhog Day." The webpage is the gateway to historic photographs on Flickr, and www.LookAtIllinois.info [31] has digital versions of county and local history books and documents.