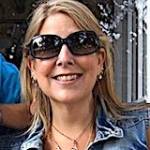 Nebraska native and Crystal Lake resident Lela Olson has lived in the county a little over seven years. She moved to Illinois in 1995. She and her husband, Bryan, have one daughter, whom they are eager to raise in this "wonderful area."
She earned an associate's degree from Elgin Community College and has an extensive background in customer service and office management. She also brings an artistic bent to the McHenry County Historical Society. She loves reading, pottery (I have two kilns) photography, arts, camping, gardening and nature. She combined some of those interests when she formed the Facebook group Crystal Lake Rocks – which decorates rocks and leaves them for others to find.
But it was her interest in history that drew her to MCHS in September 2021.
"I have spent my whole life going to museums," Lela said. "I was drawn to the McHenry County Historical Society & Museum because my love for the McHenry County area and people within it. I wanted to be part of an organization that is preserving and protecting the history of this county."