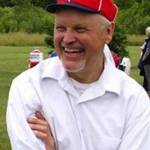 After serving on the McHenry County Historical Society's board of directors, Kurt assumed the administrator's post starting in August 2012. He replaced a legend and mentor, Nancy Fike, when she retired after 30 years of service to this nonprofit.

Trained as a journalist, Kurt graduated from the University of Illinois in Champaign and began working for the Woodstock Sentinel. His career took him to Virginia and then back to the county working for the Harvard Herald and Northwest Herald. A reporter, columnist and editor, he wrote on a variety of topics including business, government, fine arts and history. It wasn't long before he befriended Nancy Fike and embraced the historical society's mission.

Past experience includes managing reporters, serving as an award-winning president and regional director for the Jaycees and involvement with the Boy Scouts of America. Kurt is an Eagle Scout and a member of the Order of the Arrow.

As administrator, Kurt has instituted a number of operational reforms including the rewiring of the museum, the adoption of maintenance contracts, additional programming, strategic planning, historic preservation initiatives, energy savings projects and an expansion of education/marketing efforts.