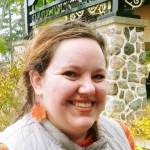 Position:
Volunteer & Outreach Coordinator
Kira Shae joined the McHenry County Historical Society as the Volunteer and Outreach Coordinator in October 2021.
"I really wanted to work in a Midwestern community where I had an opportunity to build educational programs, community engagement opportunities, and culturally enriching experiences in a small, intimate way," Kira Shea said. "MCHS provided an opportunity to use the skills I'd be developing during my career in a community that I'd been tangentially a part of for my entire life. I was really excited to dig into a museum that focused in on interpreting history through a relatable, local lens."
Kira Shae, who earned a bachelor's degree in anthropology from Northern Illinois University, brings with her an extensive background working with volunteers ... as well as other stakeholders. Prior to joining MCHS, she spent her career working with a variety of cultural and educational institutions primarily in the Midwest – most recently the Wisconsin Historical Society. She is a Certified Interpretive Guide and highly enjoys connecting guests to the heart of the historical society. Kira Shae is passionate about building community through education, shared experiences and storytelling.
"The thing I love most about history are the stories of 'forgotten' people," she said. "Growing up you learn about prominent figureheads and events often without a lot of context in history classes. But I always had questions about how different stories intersected or what were the lives of average people like, instead. It's why I like local history. You get a much better understanding of how individual stories weave together to create a larger community then when you look at history with a 1,000 foot lens.
"Any time you can look at the same event from the perspective of multiple people from multiple backgrounds within the same community you get the best story – and who doesn't enjoy a good story?"