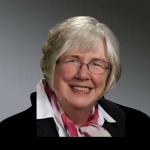 Kathy Bergan-Schmidt, Nunda Township
Kathy has lived in McHenry County since 1989. A native of Winthrop Harbor – the "cornerstone of Illinois" is where she grew up. Married life later brought her to Arlington Heights and Hoffman Estates, before the couple moved to the west bank of the Fox River in unincorporated Crystal Lake.
After receiving a master's degree in history from the University of Illinois-Urbana, she taught history for four years at Fayetteville State University in Fayetteville, N.C. Her main duties were to teach the U.S. history survey and supervise the social studies student teachers.
Just being "mom" has been her primary occupation since 1975. However, interest in history has remained a constant. Kathy is fond of telling friends: "Once a historian, always a historian."
Kathy has been a member of the MCHS Board of Directors since "the last century." The McHenry County Illinois Genealogical Society and Wildflower Preservation and Propagation Committee have provided her with other organizational leadership positions.
"From my Norwegian and Irish ancestors, I have inherited the tendency to involve myself in local politics," Kathy said. From 2008-12, she served as a member of County Board District 3. She also served in various offices in the Democratic Party of McHenry County and has spent a great deal of time working to increase the number of precinct committeemen in that organization.
At the present, her historical research is family history research, be it of her own family or others. Sleuthing out facts and stories of those who are part of our past remains a strong and abiding interest.
"Being a part of the McHenry County Historical Society is one way I feed that interest for myself and others," Kathy said.