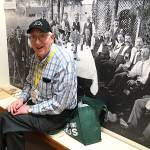 Henry Kenyon, McHenry Township
After graduating from the University of Wisconsin-Whitewater in 1956, Henry moved to McHenry County to begin teaching in McHenry District 15. He taught at McHenry and Parkland junior high schools for the next 37 years.
After retiring in 1993, Henry worked a part-time reference librarian at the McHenry Public Library for the next 20 years. His specialties are genealogy and local history. Currently, he volunteers as a researcher for the Society and helps in answering many of the information requests it receives each week.
Besides serving on the Historical Society board, which he joined in June, Henry is the board of the McHenry County Retired Teachers Association as its historian, and on the board of the Whispering Oaks Condominium Association.
Henry has been interested in history since grade school. As a college junior he rejuvenated and reorganized the defunct Walworth County Historical Society. Today, it continues to function.
Personally, he enjoys reading and genealogy, when he's not delving into local history. Henry also spent 25 years working as a leader and unit commissioner with the Boy Scouts in McHenry County's Kishwaukee District.
Henry has seven children and 13 grandchildren.