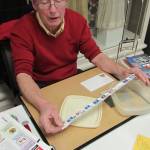 Dan Ring, Greenwood Township
Dan was born in Chicago and raised in Lake County and moved to Cary in 1974. He served on the Society board since 1989 and at present is the longest serving board member. As a member of the Society and board, he has served on the building and finance committees and served as board president for three years.
Dan gets the most satisfaction knowing that the stories and artifacts of this county are being documented, preserved and shared with those who frequent the museum and participate in its programs. He gets great satisfaction in knowing that through his efforts, and the efforts of many others, this institution has grown in what it has been able to preserve and present. Its reach now extends to areas beyond our county's borders.
Dan spent most of my working life as a teacher of social sciences on a secondary level. As a resident of the county he worked on environmental issues with prairie preservation and historical preservation. He also served on the Cary Plan Commission.
On a personal level, he is interested in travel and philately – the study of stamps and postal history. Being a philatelist allows him opportunities to write articles relating to the people and places connected to stamp collecting.