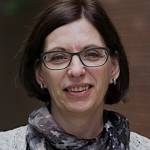 Catherine Jones, Dorr Township

The daughter of an elementary school teacher, Catherine thought that everyone stopped at roadside historical markers just like her dad did.
His curiosity modeled the way and instilled a lifelong love of history and architecture that eventually led to the purchase of a Victorian home built in 1896 located near the Woodstock Square. Catherine and her family have been residents of McHenry County since 1998.
An employee of McHenry County College, Catherine serves as the Associate Vice President for Workforce Development. She also operates Pivot Learning Strategies. Active in her church, Catherine also serves on the board of the Volunteer Center of McHenry County.
In her spare time you'll find Catherine up to her elbows doing restoration projects at home or stopping her car along the roadside to read historical markers.