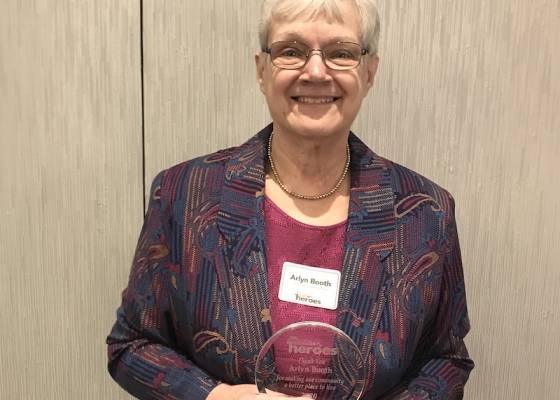 Nomination of Arlyn Booth:
I continue to be in awe of Arlyn Booth.
A Crystal Lake native, now living in Marengo, she remains forever true to McHenry County. And she epitomizes that love for this area by volunteering for numerous organizations – including the McHenry County Historical Society & Museum in Union.
No matter the ask, you can always count on Arlyn to step up and help out. She is more reliable than the Marines, more dependable than the post office and more thorough than a forensic investigator. In short, she walks the talk … then builds a bridge so she can walk a little farther.
After earning a bachelor's degree in English from Valparaiso University and and a library degree at the University of Illinois Urbana-Champaign, she moved to Springfield to work at the Illinois State Library for the Secretary of State. Following her retirement in June 2012, after more than 40 years of service to Illinois residents, she moved back home.
Then she got back to work. Again.
She began volunteering at the Crystal Lake Historical Society, the McHenry County Conservation District, Illinois Railway Museum's Strahorn Library, the Marengo-Union Library District and at the McHenry County Historical Society. She has been a member of the MCHS board since 2016, serving as secretary and chairing – what else? – our Library Committee.
She volunteers here at least twice a week and frequently more than that, volunteering at events and helping patrons do family research.
She is a conscientious, caring and collaborative volunteer who everyone loves and admires. She is everyone's Everyday Hero.
- Kurt Begalka
This year's honorees:
Angela Becker, Scott Block, Dillon Boley, Arlyn Booth,
Dawn Bremer, Robert Clark, Noah Currier, Kim Egger,
Trish Eiserman, Dan Fruin, Maddie Pepe, Carol Quamme,
Laura Townsend, Alicia Wehby, Jolene White