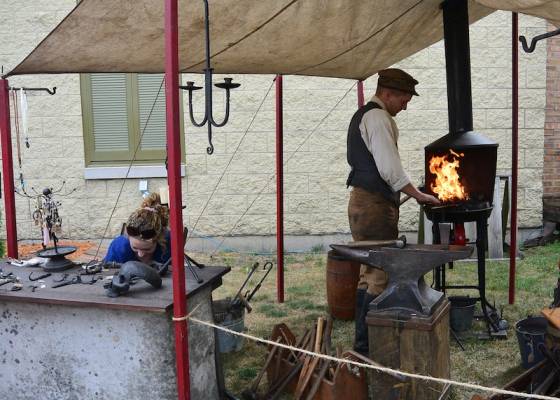 "It's been something over the years that just developed and really clicked," said Richard Hamilton of Harvard. "It's a matter of how much you want to get involved with it."
Hamilton was asked to consider learning flintknapping while demonstrating bird banding several years ago at a festival in Belvidere. He embraced the challenge with his usual enthusiasm, and today is keen to demonstrate this dying art at events such as Sunday's Cider Fest in Union.
Visitors to the 42nd annual Cider Fest also will be able to a blacksmith work, help raise a barn or make cider on a historic press. Visit a Civil War encampment, courtesy of 114th Pennsylvanian, and visit with General Grant and Honest Abe Lincoln. There will be black powder and telegraph demonstrations. Hamilton also plans on bringing his replica 1848, 12-pound Howitzer and a replica 1870s' 3-pound British gun – he built himself.
Hamilton has always nurtured an artistic bent. He studied photography and etched glass.
"I make points and blades. I make small pieces out of big pieces," he said. "From using copper to antler material to whatever, it's about one stone hitting another stone. This is how you produce a blade."
Flint, chert and obsidian are used to making cutting instruments such as arrowheads – essential survival tools in the days before machines automated their manufacture.
"You can sit and make gravel with everybody else and then all of a sudden it grabs you. Then you go find yourself an old guy or old woman and they help you out. … Its just one of these skills you have to watch. It's a lot like muscle memory. You're not thinking about it. Your muscles are doing it."
Cider Fest runs from 10 a.m. to 4 p.m. Oct. 6 at the museum, 6422 Main St. in Union. Visitors are invited to participate in an apple dessert contest (registration starts at 9:30 a.m.), listen to the Octoberfest-inspired sounds of Charlie B & Friends starting at 12:30 p.m. and learn about the rise of Gen. Ulysses Grant at 2:30 p.m. In addition, the Gannon family 1843 log cabin and 1895 West Harmony one-room school will be open.
For additional information, visit www.gothistory.org [1] or call 815-923-2267.
Apple Bake-off features return of commercial category

UNION – Is grandma's cinnamon apple pie recipe melt-in-your-mouth marvelous? Do your apple bars take the cake? Now you have a chance to prove it.
As part of the 42nd annual Cider Fest on Sunday, Oct. 6, the McHenry County Historical Society is hosting its sixth annual Apple Bake-off Contest. Registration begins at 9:30 a.m. with judging following at 10:30 a.m. in the 1895 West Harmony School. The school is located on the museum grounds at 6422 Main St. in Union.

Categories are apple pies, apple cakes and apple squares/bars. There is a $2 fee per item, one entry per category. First- second- and third-place contestants in each of the three categories will receive ribbons, with a special prize going to the grand champion.
In addition to an amateur category, professional pie bakers are invited to enter an apple pie in second annual "Apple of My Eye" contest. The winner receives a trophy, with the runner-up and third-place entrees earning ribbons.
All baked goods entered should be in disposable containers or dishes marked with the contestant's name and phone number for pickup after judging. Entries will be divided and repackaged for sale that day. All proceeds benefit the nonprofit historical society. For additional information, visit www.gothistory.org [1] or call 815-923-2267.
•••
White Elephant donations sought
UNION – The McHenry County Historical Society is seeking donations for its popular "white elephant" sale during this year's Cider Fest – just in time for your fall cleaning ritual.
The Oct. 6 sale has become a much-anticipated and pivotal part of the McHenry County Historical Society's fundraising effort. Items range from vintage clothing perfect for Halloween costumes; board games, mannequins, furniture, new and vintage books, glassware, seasonal merchandise, sporting equipment and tables of odds and ends you'll not find anywhere else.
This year's sale runs from 10 a.m. to 3:30 p.m. in the Schuette Building, next door to the museum. No early birds. Checks and cash only.
Donations may be dropped off through Oct. 1 at the historical society museum, 6422 Main St., during regular business hours – 9 a.m. to 4:30 p.m. Monday through Friday. Please, no broken or soiled items, or items that have been recalled or contain hazardous materials.
Large appliances, antiquated computers and electronic items, VHS tapes, medical supplies and such child items as cribs, car seats and used stuffed animals will not be accepted. The Society also reserves the right to reject items because of duplication, condition or disposal costs.
Your donations are tax deductible and will contribute to funding MCHS programs and operations. For information, call 815-923-2267.