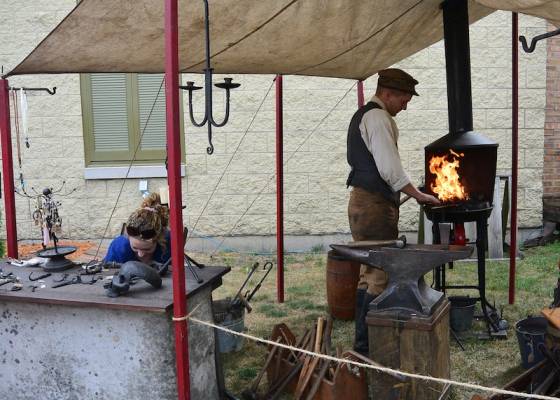 10 a.m. to 4 p.m.
From an early age, people remarked that George Buss resembled Abraham Lincoln.
Tall, thin, and bearded, the fact the Freeport native grew up near Taylor Park – where Lincoln debated Steven A. Douglas in 1858 – also helped make the connection. The now-retired biology/life sciences teacher at Freeport High School debuted as Lincoln in 1986, representing the Land of Lincoln at a National Educational Association Convention in New Orleans. Sporting the famous stovepipe hat, he led the Illinois delegation onto the convention floor.
Today George Buss has turned his historical knowledge, educational background, theatrical experience, and love of all-things Lincoln into a full-time passion. During the past 15 years, Buss has brought Honest Abe's plain-speaking persona to venues throughout the country – including Gettysburg, Pa. And he will appear at Sunday's Cider Fest, hosted by the McHenry County Historical Society.

Not only will he and Gen. Ulysses S. Grant be serving as Apple Bake-off judges in the morning, Buss will deliver the Gettysburg Address at 2:30 p.m.
Even after all this time, Buss acknowledged he's always learning something new about our 16th president.
"I'm with Lincoln a whole lot these days," Buss said. "I think the [man's] durability comes from Lincoln being every American's president; even for the people of the world. While they fight for their individual freedoms, look to a high moral standard, the person who comes to mind is Lincoln. … I've been a writer and speaker the last 25 years for the Lincoln Forum. It's been an interesting ride."
Visitors to the 41st annual Cider Fest also will be able to experience a Civil War encampment, courtesy of the 36th Wisconsin Voluntary Infantry. Re-enactors plan to bring a non-working howitzer and a demonstration telegraph station, as well as participate in black-powder drills. Grant, portrayed by Wayne Issleb, will be joined by both Union and Confederate troops at an encampment. The idea is demonstrate the camaraderie that existed between both sides once the day's fighting was over.
Cider Fest runs from 10 a.m. to 4 p.m. Oct. 7 at the museum, 6422 Main St. in Union. In addition to free access to the museum, visitors are invited to watch a blacksmith and broom maker ply their trade, or make cider on an old fashioned press. Buy a gorgeous mum, shop the unique White Elephant Sale or savor some hot cider and cider doughnuts.
Participate in an apple dessert contest (registration starts at 9:30 a.m.), help with a barn raising starting at 11:30 a.m. and listen to the Octoberfest-inspired sounds of Die Musikmeisters starting at 12:30 p.m. Silent auction aficionados can bid on unique books that include a two-volume county history set published in 1922, a 1910 Woodstock High School yearbook and collection of illustrated nursery tales published at the turn of the century.
In addition, the Gannon family 1843 log cabin, the 1895 West Harmony one-room school and The James mobile museum will be open.
For additional information, visit www.gothistory.org [1] or call 815-923-2267. For a map of the ground click HERE [2].
•••
Apple Bake-off features new commercial category
Is grandma's cinnamon apple pie recipe melt-in-your-mouth marvelous? Do your apple bars take the cake? Now you have a chance to prove it.

As part of the 41st annual Cider Fest on Sunday, Oct. 7, the McHenry County Historical Society is hosting its fifth annual Apple Bake-off Contest. Registration begins at 9:30 a.m. with judging following at 10:30 a.m. in the 1895 West Harmony School. The school is located on the museum grounds at 6422 Main St. in Union.
Categories are apple pies, apple cakes and apple squares/bars. There is a $2 fee per item, one entry per category. First- second- and third-place contestants in each of the three categories will receive ribbons, with a special prize going to the grand champion.
In addition to an amateur category, professional pie bakers are invited to enter an apple pie in the inaugural commercial category for an opportunity to be named the "Apple of My Eye" pie in McHenry County. The winner receives a trophy, with the runner-up and third-place entries earning ribbons.
All baked goods entered should be in disposable containers or dishes marked with the contestant's name and phone number for pickup after judging. Entries will be divided and repackaged for sale that day. All proceeds benefit the nonprofit historical society. For additional information, visit www.gothistory.org [1] or call 815-923-2267.