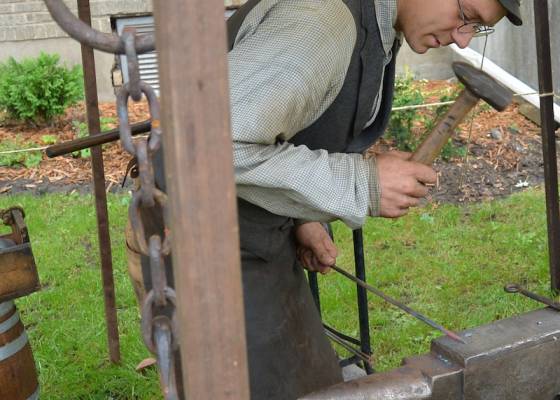 Oct. 1 – Sunday
• 10 a.m. to 4 p.m. – 40th Annual Cider Fest
Thanks to a portable forge that someone threw out and a father who schooled him on the finer points of metal-working, Sam Johnson seemed destined to be a blacksmith.
And he is.
But Johnson, of Lakemoor, remains a student of the profession; a 26-year-old aficionado who works hard to improve his craft – whether he's making simple, double-sided pot hooks, triangles or decorative items.
"I sleep it and I live it," said Johnson, who has been smithing for the last 12 years. "I've learned a lot about what is appealing to the eye and I've learned a lot of techniques. I grew up working in a shop and watching other guys work and share ideas."
Still, truly appreciating the effort requires experiencing the process firsthand at events such as the McHenry County Historical Society's 40th Annual Cider Fest. Sunday's itinerary includes live music, a white elephant sale, an apple bake-off competition, a barn-raising, old-fashioned cider pressing (apples donated by Lang's Orchard of Woodstock) and a shoe-making demonstration featuring cobbler Doug Strong of Hawthorn Woods.
"I try to make money out of it but it is a difficult thing to market and it is hard to make stuff. You need to go out on site and get a fire going, plus buy coal and bar stock," Johnson said. "But if people are able to sit there and can watch me make stuff with a hammer, they realize that they want it."
Visitors to Cider Fest also will be able to experience a Civil War encampment, courtesy of the 36th Wisconsin Voluntary Infantry. Re-enactors plan to bring a non-working howitzer and a demonstration telegraph station, as well as participate in black-powder drills. Gen. Ulysses S. Grant, portrayed by Wayne Issleb, will be joined by both Union and Confederate troops at an encampment. The idea is demonstrate the camaraderie that existed between both sides once the day's fighting was over.
"It was more political than anything else," Issleb said of the War Between the States. "It (war) was turning point for the country. It was not only fought to abolish slavery, it was over a way of life. It symbolized a joining into one nation, as Americans, and it tested this country."
Sadly, insular views of history are once again leading to divisions in places like Charlottesville, Va.
"It's unfortunate that people who protest the war want to believe it never happened. They want to just erase history," Issleb said. "You cannot do that. The Confederate statues are not to glorify a cause. But people don't want to see that. They say it is offensive."
Cider Fest runs from 10 a.m. to 4 p.m. at the museum, 6422 Main St. in Union. In addition to free access to the museum, visitors are invited to participate in an apple dessert contest or choose from a variety of other homemade apple treats; help with a barn raising starting at 11:30 a.m. and listen to the sounds of Charlie B and Friends starting at 12:30 p.m. Silent auction aficionados can bid on unique books that include something from the 1933 Century of Progress, a reprint of the 1872 county atlas and some Dick Tracy pocket books.
In addition, the Gannon family 1843 log cabin, the 1895 West Harmony one-room school and The James mobile museum will be open. The Waukegan North Shore Chapter of the Antique Automobile Club of America also plans on dropping by around noon. Their entourage will include a 1913 Stanley Steamer.
For additional information, visit www.gothistory.org [1] or call 815-923-2267. For a schedule click HERE. [2]
***
APPLE BAKE-OFF
Is grandma's old apple pie recipe melt-in-your-mouth marvelous? Does your apple bars take the cake? Now you have a chance to prove it.
As part of the 40th annual Cider Fest on Sunday, Oct. 1, the McHenry County Historical Society is hosting is fourth annual Apple Bake-off Contest. Registration begins at 9:30 a.m. with judging following at 10:30 a.m. in the 1895 West Harmony School.
The school is located on the museum grounds at 6422 Main St. in Union.
Categories are apple pies, apple cakes and apple squares/bars. There is a $2 fee per item. First- second- and third-place contestants in each of the three categories will receive ribbons, with a special prize going to the grand champion.
All baked goods entered should be in disposable containers or dishes marked with the contestant's name and phone number for pickup after judging. Entries will be divided and repackaged for sale that day. All proceeds benefit the nonprofit historical society. For additional information, visit www.gothistory.org [1] or call 815-923-2267.