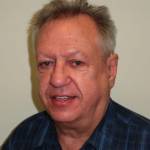 Dan Shea, Algonquin Township
Dan has been a McHenry County resident for 57 years. His relatives moved to the property that he now owns in 1915, and his family has occupied at least one of the three houses at this location continuously since then.
Now retired, he worked at American Can Company's research center in Barrington for 25 years. He has served on the Historical Society board for more than four years. My interest in history centers around the process of sifting out lore from factual events.
Dan's many other pursuits over the years have included: Fox River Grove policeman (15 years), Fox River Grove village president (10 years), McHenry County Board member (12 years), Chicago Metropolitan Agency for Planning (eight years), Good Shepherd Hospital Auxiliary, Lakewood Resource Center Intervention Program, Fox Waterway Advisory Committee and the McHenry County Conservation Foundation.
Dan has "been very honored" to receive many awards – "too numerous to mention." All have meant too much to me to list just a few here. Dan confessed his motivation is two-fold: Doing as much as he is capable of and giving back to his community.